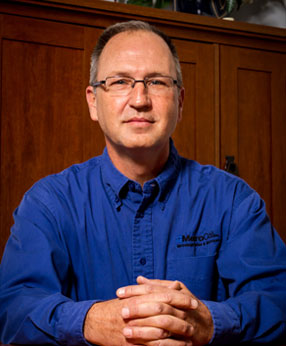 Kent Anderson, President of MetroCal Inc., started the company in March of 1994 with the foresight that West Michigan had a need for a highly competent and capable Metrology and Calibration lab to support the rapidly growing industry base.
Mission Statement
MetroCal, Inc. is committed to provide 100% Customer Satisfaction by providing technically accurate and competent calibration, test activities and products on time and at a competitive price.
MetroCal Objective
Meet all defined Customer requirements in a cost-effective manner reflecting continuous performance improvement.
From day one, MetroCal has focused on customer service and quality. In September of 1994, MetroCal became one of only seven commercial Metrology Labs throughout the nation to receive an A2LA Certificate of Accreditation to the ISO 17025 standard (formally ISO Guide 25). This Accreditation assures that all services performed are traceable to the National Institute of Standard and Technology and meet or exceed the "General Requirements for the Competence of Testing and Calibration Laboratories".
Originating in Michigan, Metrocal has expanded its services to provide products and process verifications throughout the nation as well as internationally. In 1999, MetroCal was on the move, purchased land and constructed a 14,000 square ft building specifically designed to support the controlled environments needed to perform proper metrology services.
Since its creation, MetroCal has been committed to adding more services, higher technology, better accuracies and more efficient test methods to ensure we stay one step ahead of the competition. The diversity of MetroCal's technical personnel allows us to perform new and unique calibrations and verifications when others can not.
MetroCal assists the quality needs of virtually every industry. It maintains dedicated customers in the; Aerospace, Appliance, Automotive, Computer and Electronics, Furniture, Medical, Surgical Products and Textile Industries – just to name a few.
The company's wide range services are continuously growing in efforts to truly become the one stop shop for quality assurance and quality control. MetroCal's services include:
Physical, Dimensional, Mechanical, Electronic and Thermodynamic Calibrations and Repairs performed in our environmentally controlled labs or on-site at the customer's facility.
3rd party Dimensional Inspection for product verification and certification using the latest technology in 2D and 3D dimensional measurement and laser scanning.
Custom CAD Design and Build services for all your special hard gauging and fixture needs.
Metrology Displays and Software Sales and Services.
Precision Measuring Gauges and Equipment Sales and Services.
Customized CMM software Training, GD&T Training and CMM Programming Services performed on-site or at MetroCal's facility.
Portable Metrology services bring the CMM and Laser Scanning right to you.
---