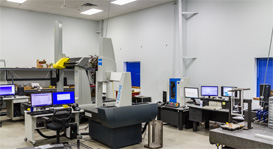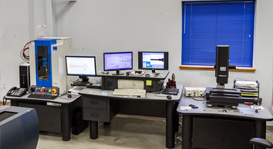 In almost every industry, a need for dimensional verification on extremely small features arises. Our Vision System allows us to perform accurate measurement of parts with features that cannot be checked by conventional CMM's. Non-contact technology also allows us to inspect compressible materials such as foam and soft rubber, without the deflection issues of contact methods of measurement. This fully automatic, programmable system with CAD interface allows data to be imported for quick part setup, and exported for quick reverse engineering. With its magnification range of 27X to 540X, and a resolution of LA micron, this system has been a breath of fresh air for tight tolerance measurement.
3D Multi-Sensor Dimensional Metrology with Outstanding Speed and Accuracy
Performing 3rd Party Certifications, 1st Piece Inspections, Capability Studies, Reverse Engineering, Statistical Analysis and much more
Focused on Customer Service
Maintained in a Tightly Controlled Laboratory Environment
A2LA Accredited assuring you NIST Traceable Certifications meeting all the ISO requirements
Continually Improving our Capabilities to provide the Best 3rd Party Dimensional Verification and Certification Possible.
MetroCal, Inc. also offers a number of other quality services and products:
Custom Check Fixture/Gage Design and Build
Physical, Dimensional, Thermodynamic and Electronic Calibration
All performed in a Tightly Controlled Laboratory Environment
Sales of name brand Precision Measurement Instruments, Torque Products, Scales and Balances Metrology Displays.

New – The Keyence IM (Instant measurement) system allows us to offer you Part Sorting Services.
Service with the customer in mind, helping you meet today's quality standards.
Please feel free to contact us for details.
---